Lifting one leg up and then the other, you grab onto a handle grip and climb into an old four-door truck, sinking into the leather cushion as you turn on the engine. The radio blares through the worn-out speakers, but the passengers who consist of close friends and family don't seem to mind. The truck will soon turn into an entertaining karaoke session with the windows rolled down and the bass drowning out any other noise.
You're on a hunt, a search, a mission to find the tastiest food that will meet the needs of your growling stomach and the inner food connoisseur within- and you'll drive anywhere to satisfy the crave.
It's a foodie's trek as you look to discover the best restaurants with quality service. Once you've reached Plant City, Florida, you'll find that the search is most definitely over.
The southern cuisines offer a variety of different tastes and dishes that are unlike any other place in Florida. The South is known for its cooking, and Plant City doesn't take that lightly.
Buckle up and grab a seat. Plant City has all you can eat- and then some (but that's just part of our southern hospitality)! Let's take a drive on the foodie's trek through the streets of Plant City:
Stop 1. Brick House Café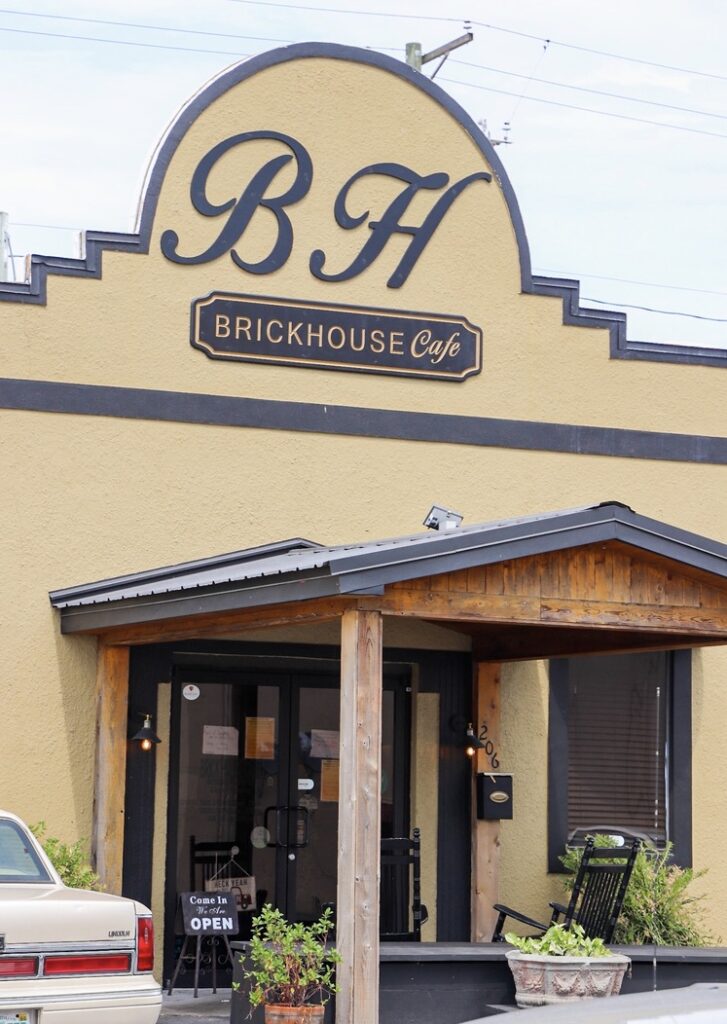 The bricks are carefully stacked one on top of the other to form a single, stand-alone building in the middle of a busy downtown with people roaming around. It's a place the locals love to eat, but welcoming visitors is a treat!
Brick House Café has burgers, pancakes and pies that will have you craving them enough you'll want to stop by! 
The café began as a brick building established in 2008, but in 2018 it was relocated to the downtown area where the old Plant City jail used to be. Enter the brick house and sit down to eat a delicious meal.
Breakfast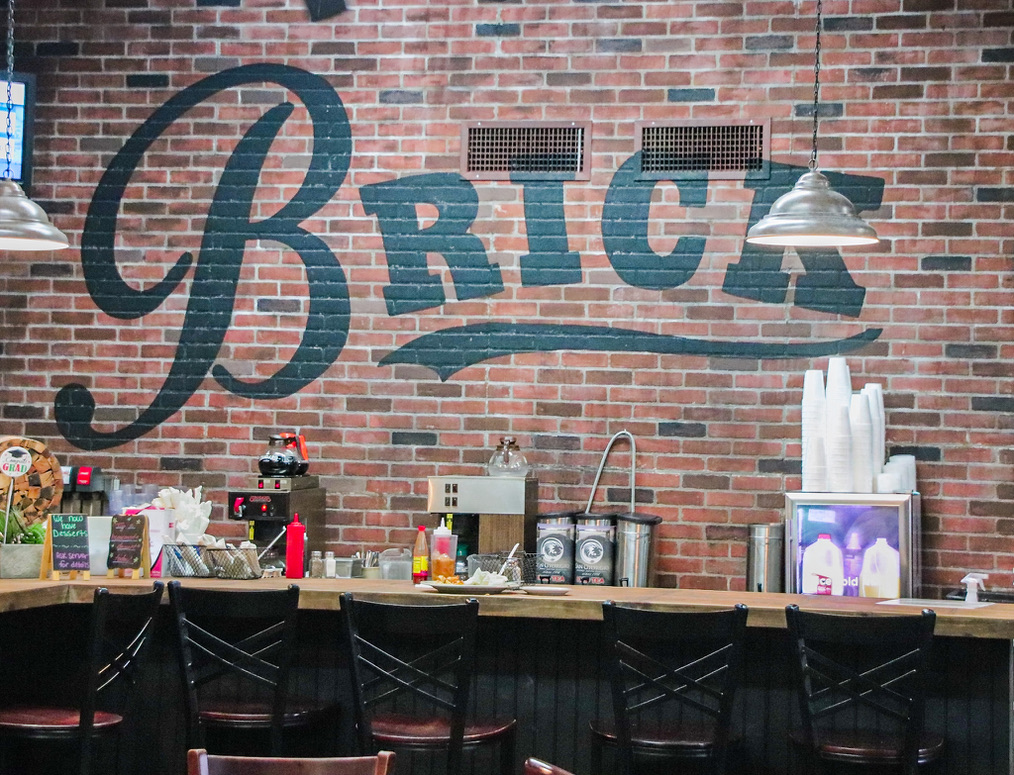 Create a power breakfast sandwich or choose from a Brick House special- either one will be good. Choose an omelet filled with peppers, onions, ham, sausage, cheese and whatever you like. Grab a side of hash browns, home fries, grits or fresh fruit to pair with it for a nutritionally balanced meal. There are many other options including the Jailhouse Special, which you can get for $5.99. The meal consists of one egg, bacon, grits, toast and coffee to keep you running in the early morning. It's a price you can't beat with the food you want to eat.
Although the omelets are a great power source to start your morning with, the Churro Stuffed French Toast is the exception. French toast is rolled in cinnamon sugar and drizzled with caramel sauce. The chocolate chip pancakes or pecan waffles are a close second. Pair with a side of sizzled bacon, and you're ready to go!
Lunch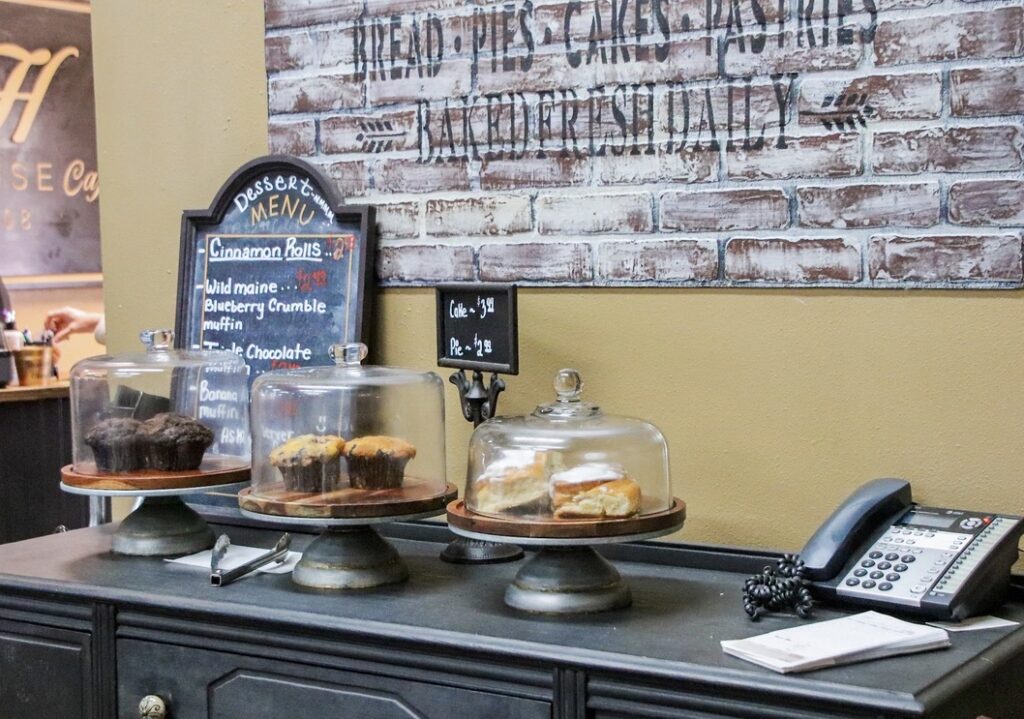 In addition to the many breakfast choices, the lunch menu will make you come by again- and there's no judgment if it's twice in one day! Bite into a juicy hamburger that's been awarded the best burger in Plant City. Eat a grilled cheese with a bowl of the soup of the day. Cut into a country fried steak with a side of mashed potatoes. Or pick up a crispy chicken tender fritter. There's soups, salads and sandwiches. So many options, and believe me, you'll want to eat them all.
---
Drive by the Brick House Café on your foodie trek while it's open Tuesday- Sunday. After all, it's a brick… house (if you're not singing the song in your head then you're doing it wrong).
Stop 2. The Corner Store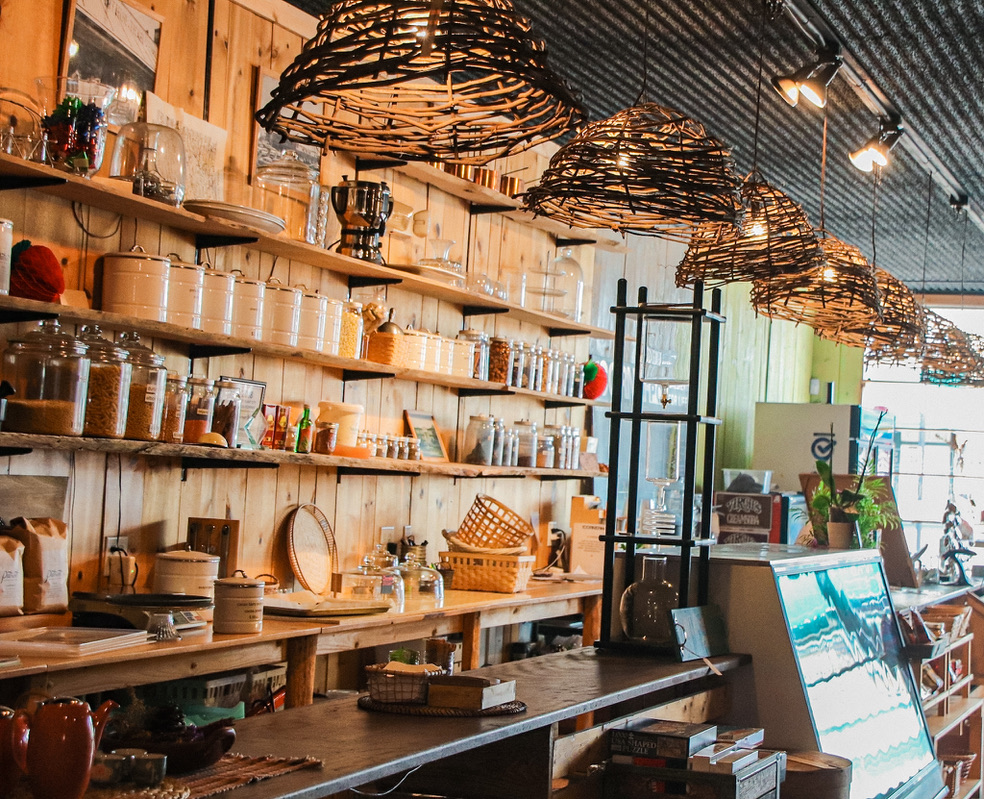 The wooden tables sit outside basking in the sun on the little corner of Reynolds and Palmer Street.  The Corner Store is a place for casual conversations on a breezy afternoon in downtown Plant City.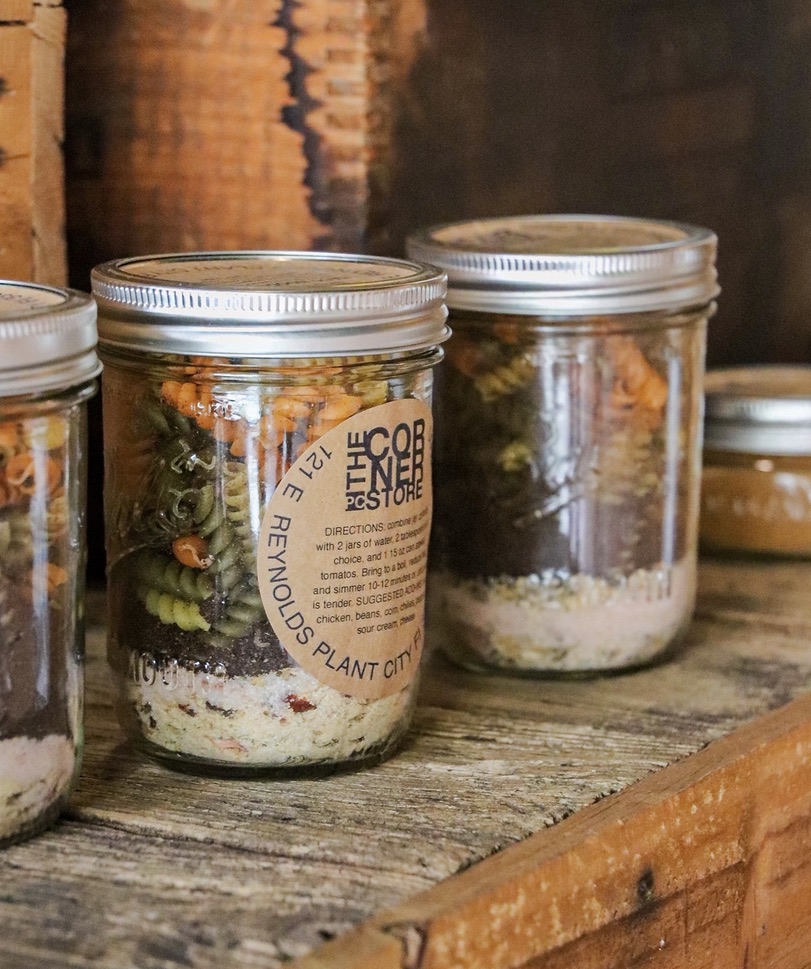 The display to the left of the store has stacks of homemade mixes neatly placed in mason jars and screwed tight. It gives customers the opportunity to re-create their own Corner Store experience at home. To the right, the fresh ingredients are neatly aligned in a row along the wall to encourage the organic, fresh ingredients served in every meal. The wooden bar table next to the cozy couch gives it a rustic look that creates a laid-back, creative space perfect for working on homework or just meeting up with friends.
The restaurant embodies the nature of organic living and natural ingredients while allowing you to catch up with friends during a lunch break or grab a quick snack on the weekends.
Lunch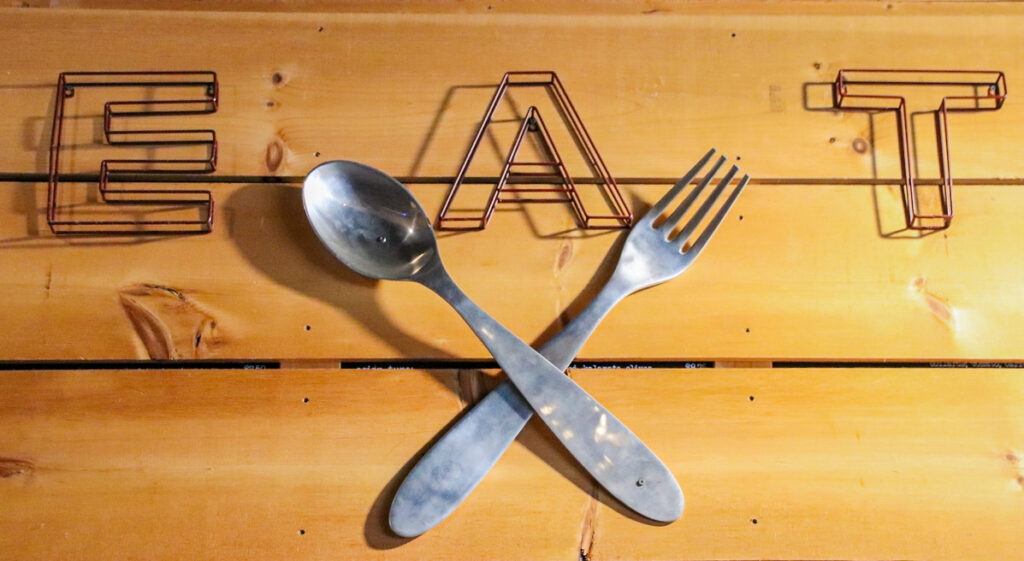 Order a gourmet charcuterie board and pair it with a fresh mix of greens tossed with walnuts and a vinaigrette dressing. Have an appetizer of pita chips and cucumbers with hummus or the Mediterranean platter of tomato, olives, dolmas and homemade Greek vinaigrette. As for the main meal, the chicken GOAT is a favorite with goat cheese, spinach, roasted chicken and sundried tomato aioli. However, other options consisting of the Mediterranean wrap, the big tuna, grilled cheese and more are other enticing options. Seasonal sandwiches and wraps are served with fresh ingredients and served with fruit and pita chips.
The Corner Store also serves beer and wine to customers. Enjoy the food (and company you're with) while drinking a refreshing tea, lemonade or smoothie on a hot summer day.
---
It's peaceful, charming, and filled with all the things that make Plant City great! Drive by the Corner Store Tuesday- Saturday on your foodie's trek for food that's good to you and for you.
Stop 3. Strawberry Hut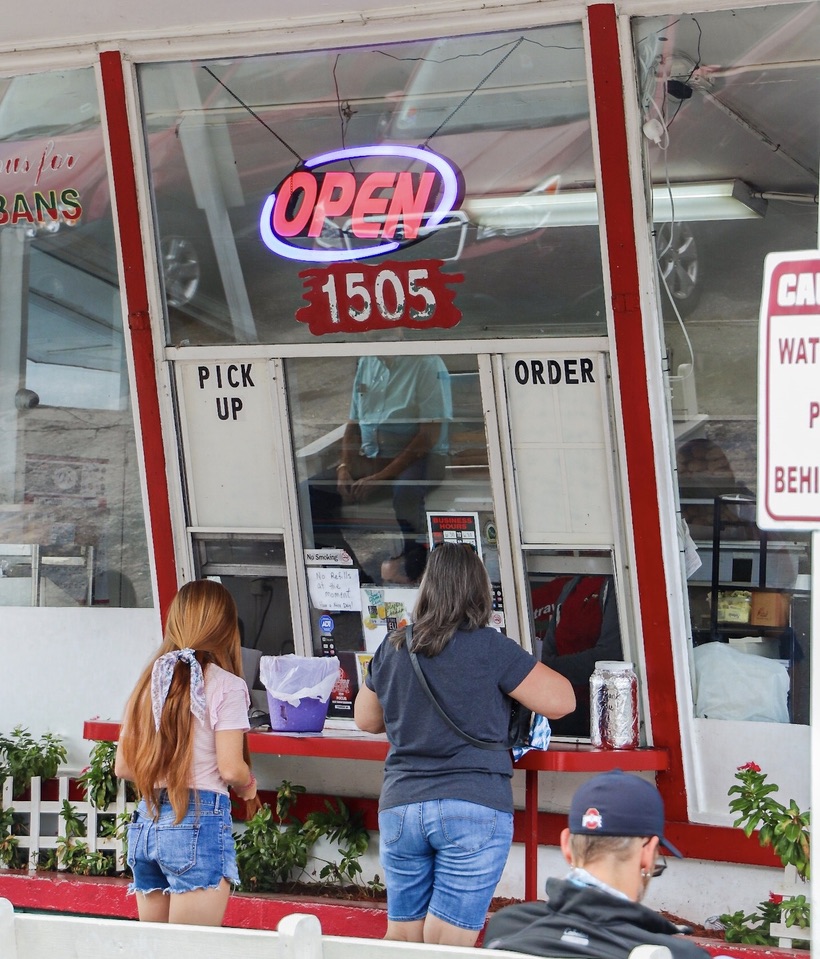 The smell of sliced meat and toasted bread drifts from the store window and into the parking lot.  As you climb out of the truck, you can hear kids begging parents for a strawberry milkshake as they cling to the Styrofoam cup and work on gulping down a large sweet tea.  The walk-up window may be old-fashioned, but that adds to the charm of the business.  Strawberry Hut has been serving Cuban sandwiches since 1993; and once you bite into one, it's easy to see why. 
Cubans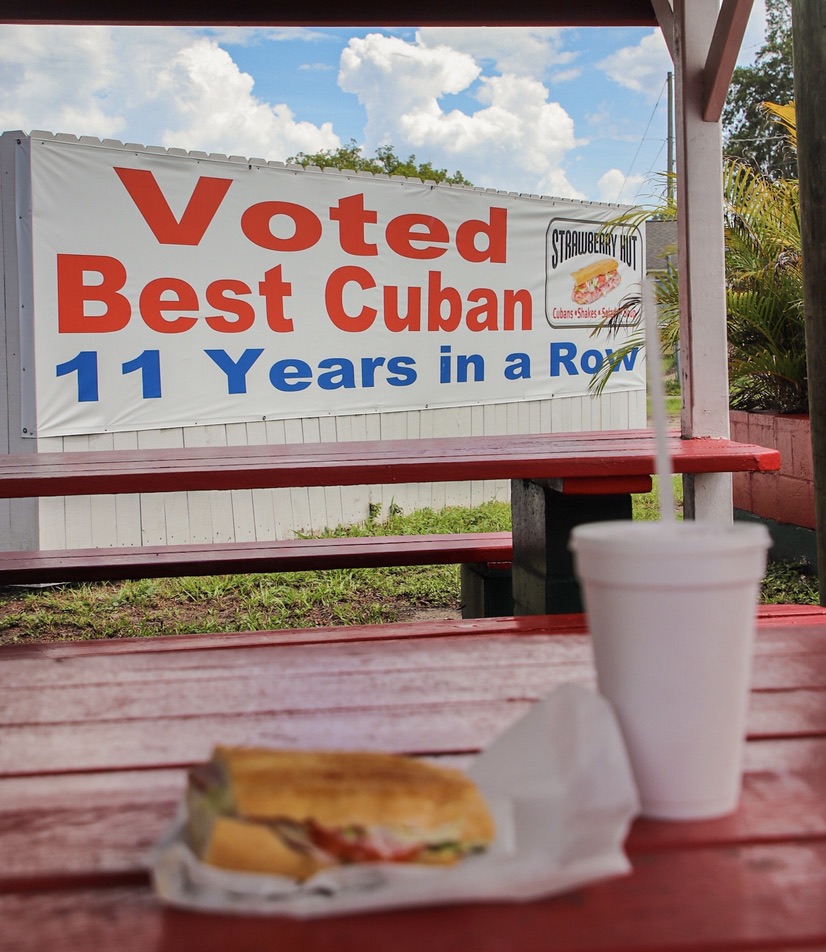 Each sandwich is made with freshly baked bread that's both crispy and soft. That's why it's been voted best Cuban for 10 years in a row. Deli ham paired with pork and salami layered with mustard, mayonnaise, pickles and swiss cheese is a classic almost everyone loves. Choose the original Cuban or try the cheeseburger Cuban with beef patties and American cheese. The Philly Cuban with Philly Steak and white American cheese is also popular but for those who don't want meat, the veggie Cuban is perfect. So many delicious flavors and not enough time- guess that means you'll have to make several trips!
Shakes
It's sweet and has little drops of what the winter strawberry capital of the world is all about. Though there are several other flavors such as pineapple, Oreo, vanilla, and chocolate, the strawberry milkshake is a MUST TRY from Strawberry Hut! The shakes are cold and refreshing on a hot summer day and offer a little pick-me-up in the middle of a slow afternoon. Treat yourself to one of these shakes and taste a little sweetness of Plant City.
---
Climb out of the truck and walk up to the window of a restaurant that's been around for years and will continue to be around for many more. Strawberry Hut is open Monday- Saturday for breakfast, lunch and dinner. Grab a sandwich and a milkshake, and dig in. It's a sweet treat for your foodie trek drive (or a picnic for another day!).
Stop 4. Johnson's Barbeque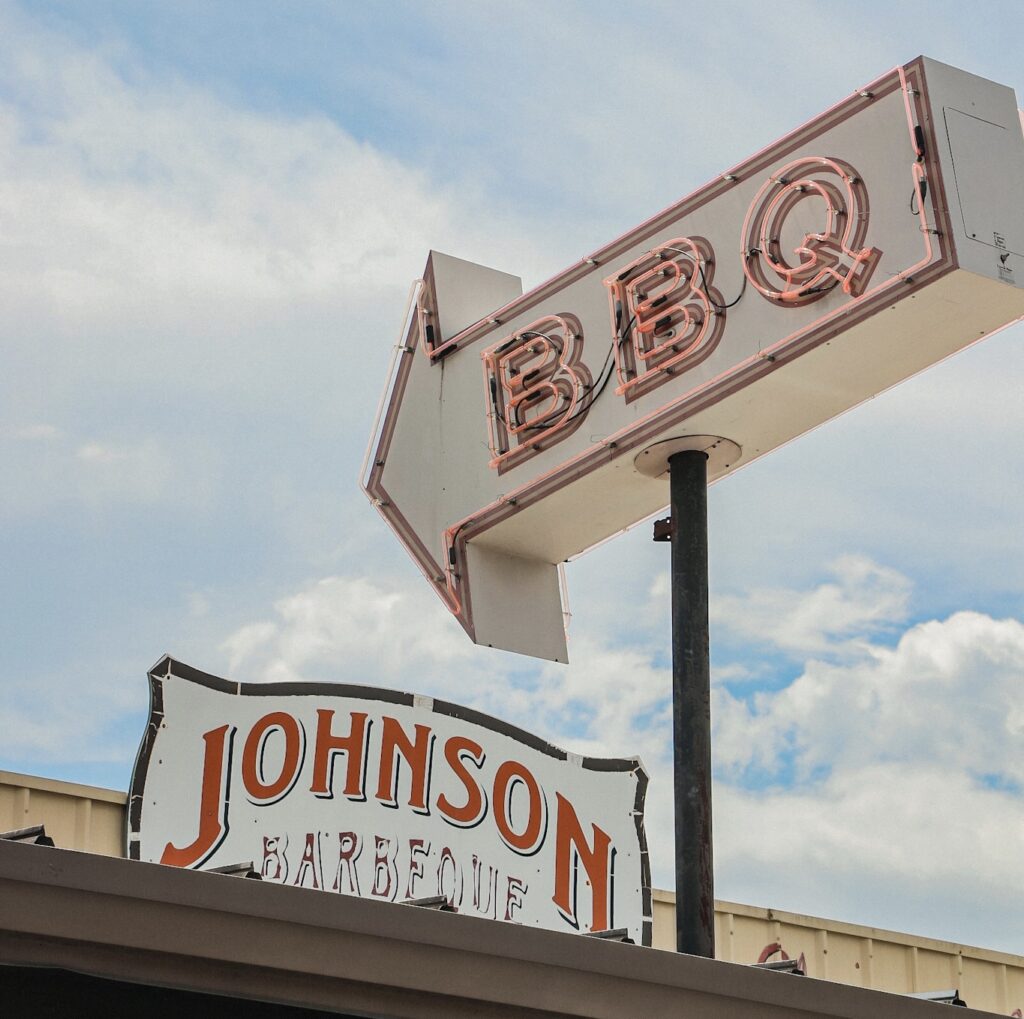 Country music is playing over the speakers entertaining the rest of the restaurant. Families sit at tables and chat over a glass (or two) of sweet tea while biting into the buttered rolls placed in the center as an appetizer.
Johnson's Barbeque is a well-known Plant City tradition.
The sweet smell of barbeque steers locals right off the road and into the packed parking lot of Johnson's on a Friday night. It tastes like home cookin', and smells like it too!
Pit BBQ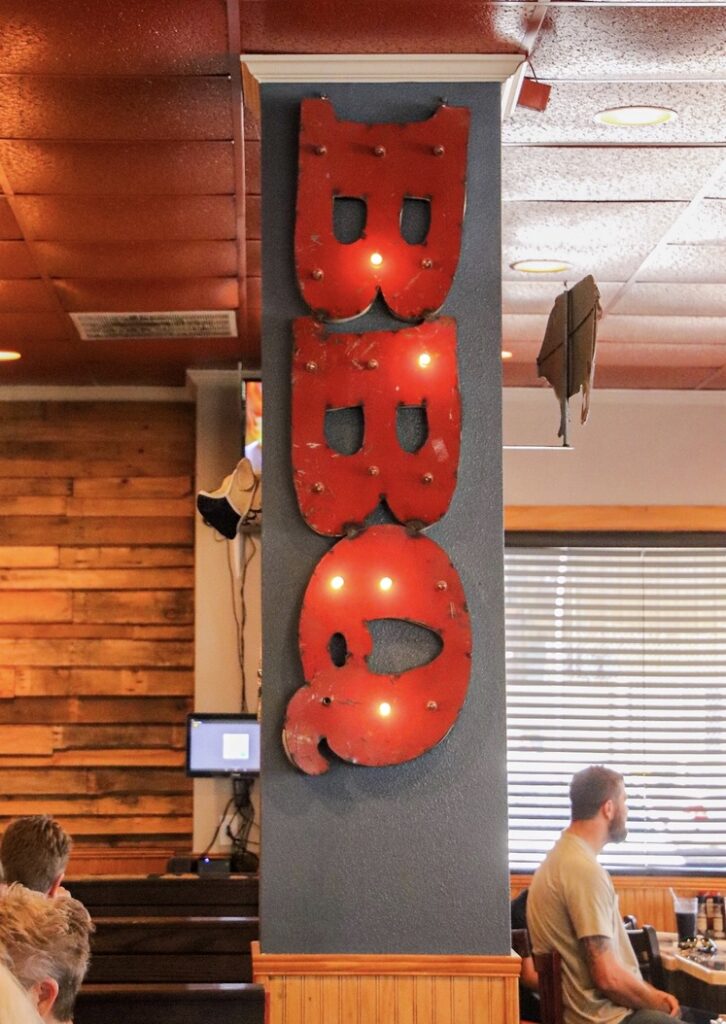 Slow-smoked meat cooks on the smoker in the back kitchen. The smell of freshly cooked ribs drifts up as you reach across the table for a bottle of house-made barbeque sauce. This is good stuff!
Dig into St. Louis Ribs, BBQ chicken, chopped pork and smoked wings. Choose from a selection of barbeque plates that are each served with two sides and warm roll to complement the barbeque sauce. Each of these entrées are cooked to perfection and served with grace and southern hospitality.
Southern Favorites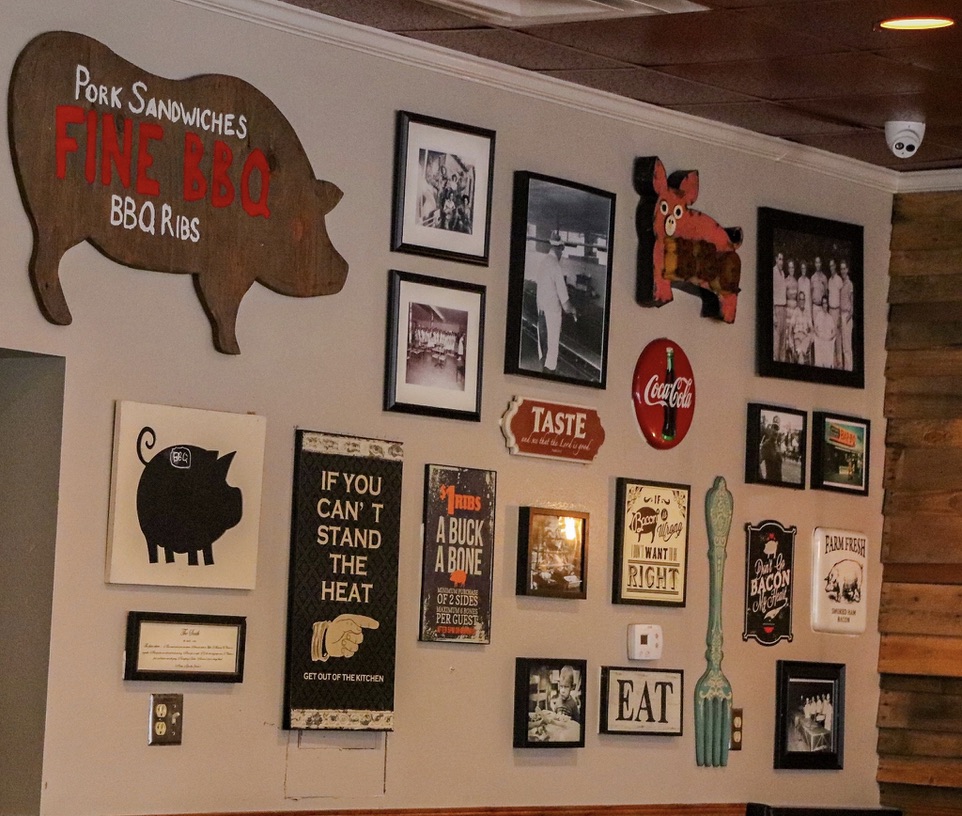 Nothing says, "southern" like fried chicken and catfish. The southern favorites menu is genuinely the favorites of locals and people from all around. The smoked fried chicken has a crunchy outside with smoked chicken drizzled with honey butter. The fried USA catfish is cooked and served with hushpuppies and apple coleslaw. Next, there's the BBQ stuffed potato with pork, beef or turkey stuffed in a potato and loaded with your favorite toppings. And lastly, there's Evelyn's Zeppelin, which is a potato with brisket, grilled onions, green onions and cheese. It's enough to make your mouth water just thinking about it!
Grab a bite of warm Peach Cobbler and Apple Crisp with cold vanilla ice cream melting on the side. It's a Johnson's classic!
---
Johnson's Barbeque is open Monday-Saturday for lunch and dinner. Experience some of the best barbeque the South has to offer!
---
There are MANY food options in town. After driving on your foodie's trek around Plant City, you'll see it wasn't the restaurants, or the food, that made the trek so fun. It was the people you explored it with.
As we head into the remaining summer months before school begins, let's cherish the family and friend time we have and enjoy another day in Plant City, Florida.